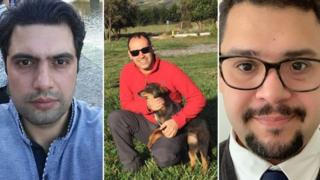 Tributes have been paid to three British nationals who died when a Ukrainian plane crashed in Iran.
Mohammed Reza Kadkhoda Zadeh, who owned a dry cleaners, BP engineer Sam Zokaei and PhD student and engineer Saeed Tahmasebi were all on board the flight.
They were among the 176 people from seven countries who died in the crash.
Ukraine International Airlines flight PS752 crashed just after taking off from Imam Khomeini airport at 06:12 local time (02:42 GMT).
The airline said the plane underwent scheduled maintenance on Monday.
A Downing Street spokesman said the UK was "working closely with the Ukrainian authorities and the Iranian authorities" over the crash, and there was "no indication" the plane was brought down by a missile.
As well as the three Britons, the victims in the crash included 82 Iranians, 63 Canadians, 11 Ukrainians – including all of the crew, 10 Swedes, four Afghans and three Germans, Ukraine foreign affairs minister Vadym Prystaiko said.
Rescue teams have been sent to the crash site but the head of Iran's Red Crescent told state media that it was "impossible" for anyone to have survived the crash.
Tributes were paid locally to Mr Kadkhoda Zadeh, 40, who ran a neighbourhood dry cleaners in Hassocks, West Sussex, and had a nine-year-old daughter.
Steve Edgington from the pet shop next door said he had known Mr Kadkhoda Zadeh for 14 years, and described him as a lovely, hardworking man who was good at his job and loved by staff.
Savvas Savvidis, 36, who rented a room in Mr Kadkhoda Zadeh's home in Brighton, said he was a "super-nice person".
"It's so sad. Before he left we had a conversation, he told me that he spent all his life working, working really hard, and now finally he wants to start to enjoy life a bit more."
Mr Savvidis described Mr Kadkhoda Zadeh as a humble man who loved his daughter very much.
The dry cleaners closed on Wednesday, with neighbouring businesses telling the BBC that staff were too upset to stay open.
Meanwhile, in a statement, BP said "with the deepest regret" that its employee Mr Zokaei, 42, from Twickenham, was among the passengers.
Mr Zokaei had been on holiday. He had worked for BP for 14 years and was based at the company's site in Sunbury-on-Thames in Middlesex.
"We are shocked and deeply saddened by this tragic loss of our friend and colleague and all of our thoughts are with his family and friends," BP said.
A friend of Mr Zokaei, who did not wish to be named, told the BBC they were "still in shock".
"He was a highly accomplished person. Very clever and very friendly. Always smiling and full of positive energy. He will be sorely missed.
"He was always trying new adventures. He cycled and toured Europe on bikes a few times. He also loved travelling to interesting far out places."
Also killed was Mr Tahmasebi, 35, who worked as an engineer for Laing O'Rourke in Dartford.
Last year, Mr Tahmasebi married his Iranian partner, Niloufar Ebrahim, who was also listed as a passenger on the plane.
"Everyone here is shocked and saddened by this very tragic news," said Laing O'Rourke.
"Saeed was a popular and well respected engineer and will be missed by many of his colleagues. Our thoughts are with his family and friends at this most difficult time and we will do all we can to support them through it."
'Humble and generous'
Mr Tahmasebi – whose full name was Saeed Tahmasebi Khademasadi – was also a part-time PhD student at Imperial College London's Centre for Systems Engineering and Innovation.
A spokeswoman for the university said: "We are deeply saddened at this tragic news. Saeed Tahmasebi Khademasadi was a brilliant engineer with a bright future.
"His contributions to systems engineering earned respect from everyone who dealt with him and will benefit society for years to come.
"He was a warm, humble and generous colleague and close friend to many in our community. Our thoughts and sincere condolences are with Saeed's family, friends and colleagues, as well as all those affected by this tragedy."
At Prime Minister's Questions earlier, Boris Johnson and Labour leader Jeremy Corbyn both said their thoughts were with the families of those killed.
A UK Foreign Office spokesman has said: "We are deeply saddened by the loss of life in the plane crash in Iran overnight."
They said it was "urgently seeking confirmation" about how many British nationals were on board and would be supporting any families affected.
Melinda Simmons, British ambassador to Ukraine, said her thoughts are with those affected.
Ukraine's state aviation service has forbidden its national airlines from using Iranian airspace from Thursday, with the restrictions in place until an investigation into the cause of the crash has concluded.
Ukraine's embassy in Tehran and Iranian state television both initially said technical issues caused the crash.
But the embassy later removed this statement and said any comment regarding the cause of the accident prior to a commission's inquiry was not official.
Ukraine said its entire civilian aviation fleet would be checked for airworthiness and criminal proceedings would be opened into the disaster.
The country's president warned against "speculation or unchecked theories regarding the catastrophe" until official reports were ready.
Ukrainian International Airlines said the flight disappeared from radar just a "few minutes" after take-off.
The Ukrainian national carrier said according to preliminary data there were 167 passengers and nine crew members on board but its staff were "clarifying the exact number".
"The airline expresses its deepest condolences to the families of the victims of the air crash and will do everything possible to support the relatives of the victims," a statement said.
The airline, which is investigating the crash, said the aircraft – a Boeing 737-800 – was built in 2016 and had its last scheduled maintenance on Monday.
There was no sign of any problems with the plane before take-off and the airline's president said it had an "excellent, reliable crew".
A statement from Boeing said its "heartfelt thoughts" were with all those affected following the "tragic event".
There are several thousand Boeing 737-800s in operation around the world which have completed tens of millions of flights. They have been involved in 10 incidents, including this crash, where at least one passenger was killed, aviation safety analyst Todd Curtis told the BBC.
This is the first time a Ukraine International Airlines plane has been involved in a fatal crash.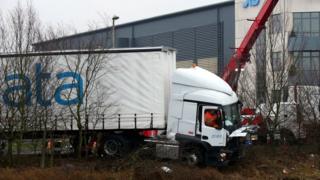 Three British Airways cabin crew members died in a crash involving a lorry and a car outside Heathrow Airport on New Year's Eve.
A white Toyota Yaris collided with a Mercedes HGV on Bedfont Road, in Stanwell, at about 23:40 GMT.
Two men aged 25 and 23 and a 20-year-old woman, who were in the Yaris, died at the scene. A fourth passenger, a 25 year-old woman, was seriously injured.
British Airways said it was "deeply saddened" by the news.
A spokesperson said: "Our thoughts are with their family and friends, who we are supporting at this distressing time."
Their next of kin have been informed.
The driver of the lorry was taken to hospital as a precaution.
The road remained closed on Wednesday to allow the lorry to be recovered.
The lorry was operated by air services provider dnata, which offers ground handling, cargo, travel, and flight catering services to airlines.
A dnata spokesman said: "We can confirm that one of our trucks was involved in a road traffic accident on the evening of 31 December.
"We are fully assisting relevant authorities with their investigations. Our thoughts and condolences are with the families of those affected by this very sad incident."
Sgt Chris Schultze, of Surrey and Sussex Roads Policing Unit, said: "We are continuing to appeal for witnesses to what happened and would urge anyone who may have any video footage, CCTV or dash cam or any other kind, to get in touch with us."
commercial pest control services hornsey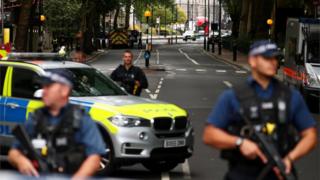 A driver targeted cyclists and police outside the Houses of Parliament in an attack designed to "kill as many people as possible", a court has been told.
Salih Khater aimed his car at members of the public before swerving towards police officers in Parliament Square, his trial at the Old Bailey heard.
His actions of 14 August 2018 were "designed to cause maximum death and injury", the jury was told.
Mr Khater, 30, of Birmingham, denies two counts of attempted murder.
'Terrorist motive'
Opening the case for the prosecution, Alison Morgan QC said the defendant first drove at cyclists waiting at traffic lights, before driving at officers guarding the side entrance to the Palace of Westminster and then crashing into a security barrier.
She said: "He caused widespread fear and chaos but miraculously, and contrary to his intentions, he did not kill anyone that day.
"Those who were faced with a vehicle being driven at them at high velocity somehow, and largely by their quick responses, managed to avoid death or very serious injury."
Ms Morgan told jurors Mr Khater's reason for the attack was unclear.
But she suggested that by targeting officers guarding the Palace of Westminster, the defendant had a "terrorist motive".
She added: "Using his car in the way that he did, driving in the manner and direction he did, the prosecution alleges that it is obvious that he intended to kill as many people as possible."
Jurors were shown CCTV footage of the defendant's silver Ford Fiesta driving at cyclists before crashing into barriers as two uniformed police officers dived out of the way.
Footage also showed Mr Khater driving through Parliament Square at 01:00 BST, allegedly conducting reconnaissance.
He returned about six hours later and completed four laps of the square before launching the attack, jurors were told.
The Sudanese national, who was granted asylum in the UK in 2010, had shown signs of "paranoia" about British authorities in the months leading up to the attack, the court heard.
Ms Morgan told the jury: "The defendant selected an iconic site. This was no coincidence."
Mr Khater has also pleaded not guilty to two alternative charges of attempting to cause grievous bodily harm.
The trial continues.