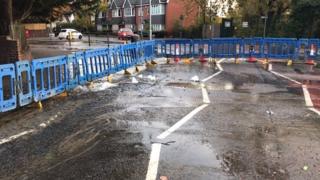 An "angry pig" confronted engineers in a London street, delaying their repair of a burst water main before it was led away with a bag of crisps.
The pipe burst on Lamberts Road, Surbiton, damaging nearby railway equipment, which caused train delays.
Thames Water said their efforts to reach a valve to cut the water were initially hindered by "a large pig" which was "acting aggressively".
It is not known what flavour crisps were used to lead it away.
Damage caused by the flooding of tracks and signalling equipment meant limited trains have been able to run along the line.
Disruption is currently expected to last until 16:00 GMT although Network Rail said engineers were carrying out inspections.
Thames Water said engineers "were quickly on site" to deal with the burst 120cm (48 in) pipe, but they had been unable to initially carry out the work because of the pig, which is thought to be someone's pet.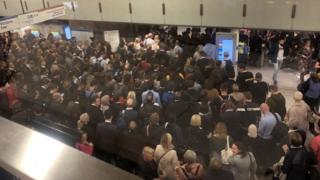 Passengers are facing travel disruption after an entire London Underground line was suspended due to a signal systems failure at the main control centre.
One commuter tweeted that he "hated the Northern Line", which was suspended just before 06:00 BST.
The Tube line connects transport hubs Waterloo, King's Cross and Euston and is used by more than 800,000 people every day.
Most of the service had reopened by 11:00, Transport for London said.
Commuter Mario Toubes-Rodrigo said he missed his pre-booked train to Milton Keynes because it took 75 minutes to make a journey that normally takes 20 minutes.
"I waste so much time and money on the Northern line," the microbiologist said.
"I get up to leave my house even earlier and pre-book my train tickets to avoid problems but I still end up having to buy on the day tickets and turning up late to work."
There is still no service on the Northern Line between Camden Town and Kennington via Charing Cross.
Tube tickets are being accepted on Southeastern and Thameslink trains, as well as on trams and buses.
Both the Bakerloo and Metropolitan lines also have minor delays as a result of the signals failure.
Replacement buses through London were reported to be overcrowded, with one commuter complaining it was "everyone for themselves".
The delays come as schools open for the new term this week and commuters on social media complained of having to queue to access stations.
People also said they had been forced to miss trains from King's Cross and Euston because of the disruption.
Brian Woodhead, London Underground's director of customer service, said: "I am extremely sorry for the disruption suffered by customers on the Northern Line today following a signalling system failure at our control centre.
"Our engineers are working hard to fix the problem and restore a full service as quickly as possible."